Choose a book below. Read it and then share your thoughts with us.
Mrs. Tuttle's Groovy Assistant
It's day five of kindergarten, and Doba can't believe she hasn't had a chance to be the Groovy Classroom Assistant. "It's so unfair!" she wails. She wants to wear the red pin with flowing ribbons. Will Doba get her chance?
Gabriel's Birthday Surprise
Meet Gabriel! He wants to be an artist, and he has a big surprise for his abuela's birthday. But he can't get it right. It's too big, too small, too wide, too long. Can Gabriel be patient and persevere to make this the best birthday present ever?
I FINALLY Learned to Tie My Shoes!
Luna can do cartwheels, somersaults, and front flips—but she can't tie her shoes. Trying brings out all of Luna's colorful, BIG emotions. Can Luna express her emotions positively while learning how to tie her shoes?
We Listen at the Zoo! Do You?
It's field trip day at the zoo! Luna, Shen, and Gabriel are working as a team to learn all about the Siberian tiger. They really want to hear it ROAR! Will they be able to use their rules for active listening and learn what the Siberian tiger does all day at the zoo?
New Friends Make a Splash
It's opening day at the Center City splash park! Doba cannot contain her excitement. All she wants to do is have fun, but Coach Khan wants her to play with Jade. Jade doesn't seem to be much fun. Can Doba learn that there are many ways to have fun—sometimes big and sometimes small?
Just One Quick Kick
Uh-oh! Kofi broke the house rule: no soccer playing in the house. He kicked the ball to his left. Then his right. And broke his mom's special gift from Aunt Abena! Will Kofi be brave and tell his family the truth about what happened?
Jade's Puppy Pileup!
Meet Jade! She loves animals, but she has her hands full with six puppies. She could ask her friends for assistance but she does NOT like to ask for help. Will Jade be able to understand that it is okay to ask for help when needed?
A Dinosaur Castle Compromise
Imani and Blake always have fun playing together. One day, they decided to build a castle with blocks in the Imagination Station. But they each have their own idea about what to build. Will Imani and Blake be able to work out their differences?
Anisa's Super Special Sparkle Markers
Meet Anisa! She loves her super special sparkle markers, and she doesn't like to share them or lend them. THEY. ARE. HERS! But when Anisa is partnered with her classmates, Shen and Gabriel, for an art contest, things begin to change. Will Anisa find a way to share?
A Snow Day Disaster
It's a SNOW DAY! Gabriel and Anisa can't wait to go outside. Abuela reminds Gabriel to wear his regular snow gear. But Gabriel doesn't listen. Will Gabriel be able to admit his poor decision and find a way to make it right?
Luna Knows the Rules
Meet Luna! Luna loves the rules. And she wants everyone else to love the rules, too! So she creates a rules chart for her family. She is sure it will bring order to their home. Will Luna's rules for her family be a big help or a big disaster?
Blake's Rainy Day
Meet Blake! Blake does not like dark-and-gloomy rainy days. Rainy days mean no outdoor recess. Mr. Joe, the bus driver, tells Blake that he can make his own sunshine by spreading warmth to himself and others. Will Blake be able to turn his rainy day into a not-so-terrible day after all?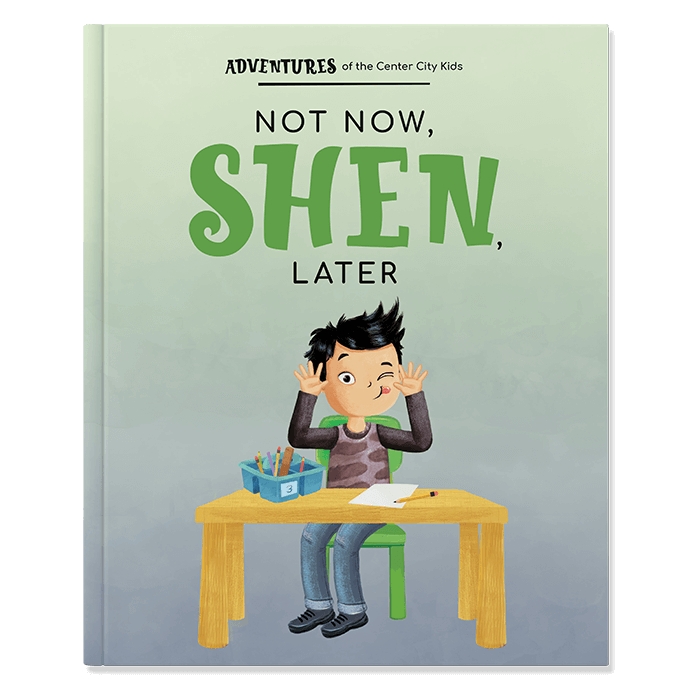 Not Now, Shen, Later
Meet Shen! He loves his tablemates and the fun that they have. But one day Shen is moved to a different seat. He tries all of his silly antics with his new tablemates, but they tell him, "Not now, Shen, later!" Will Shen be able to find a new time and place for fun?
When We Are Polite
Room 103 has two exciting things happening this week. There is a new student, Olivia O'Leary, AND they are practicing common courtesy all around Hope Elementary! Olivia and Luna are paired together, but they keep getting distracted. Will they ever make it to the front office to be special kindergarten helpers?
We Share, We Care
It's We Share, We Care Day in Room 103! Today is extra special because students are sharing something about their culture. Delicious smells, beautiful sounds, and colorful objects fill the classroom. What will each student share? And will their peers listen with their eyes, their ears, and their hearts?
Art Project Partners
"Why do we have to be art partners?" Imani and Gabriel asked. They have never worked together before, and they don't have anything in common! Will Gabriel and Imani be able to work together to make something unique?
Keep Going, Kofi!
Meet Kofi! Kofi wants to ride his bike without training wheels. He tries and he tries and he tries. But he keeps falling down. With help from his dad, Kofi must work through his emotions. Will Kofi be able to use his emotions to finally learn to ride his bike like a big kid?
The Classroom Belongs to Everyone
Oh no! P.E. will be held in the classroom today with a substitute teacher…Mr. Whirley! He only wants to have fun and he ignores the rules. Can the students in room 103 show Mr. Whirley that they can have fun while also following their classroom rules?
Imani Waits
Meet Imani! She loves to dance. Her mom has surprised her with tickets to see the Sparkle Wonderland Ballet. She is so excited. But it is a whole week away! Will Imani be able to find a way to wait patiently for the big day?
Doba Shows Determination
Meet Doba! She loves music. For her birthday, her parents gift her a new guitar. She's so excited to play, but no matter how hard she tries, she can't play "real" music. Can Doba show determination and not give up?
Please complete below
Complete information to receive instant access to the book.
"*" indicates required fields